One cannot deny the fact that it takes a lot of courage to lead a state and its citizens, from the front. There are many bumps on the path of leadership. Sometimes they're roadblocks. Sometimes the bridge is out entirely. And among all this, true leadership based on honesty, authenticity, and meaningful relationships—takes guts. But, for the divine state 'Uttarakhand', there is a leader, "Shri Pushkar Singh Dhami", pumped up with this courage.
Early Life : Shri. Pushkar Singh Dhami
Yes, the state's Chief Minister, Uttarakhand Shri Pushkar Singh Dhami has rightly proven his ability to lead the state towards development and that too, within a very short period. His perfection as a brilliant representative is not hidden by anyone. But, let's get a closer insight into his life. Born on 16 September 1975, Shri Pushkar Singh Dhami is Uttarakhand's youngest CM till date. His roots belong to the Pithoragarh district, Uttarakhand.
Being a son of an Army personnel, the feeling of patriotism was inculcated in him, from the very beginning. Before moving to Nagla Tarai Bhabhar, Khatima, he studied till class 5 in his village, Tundi. Then, after his schooling, he did his graduation from Lucknow University in Human Resource Management & Industrial Relations and pursued LL.B. from the University of Lucknow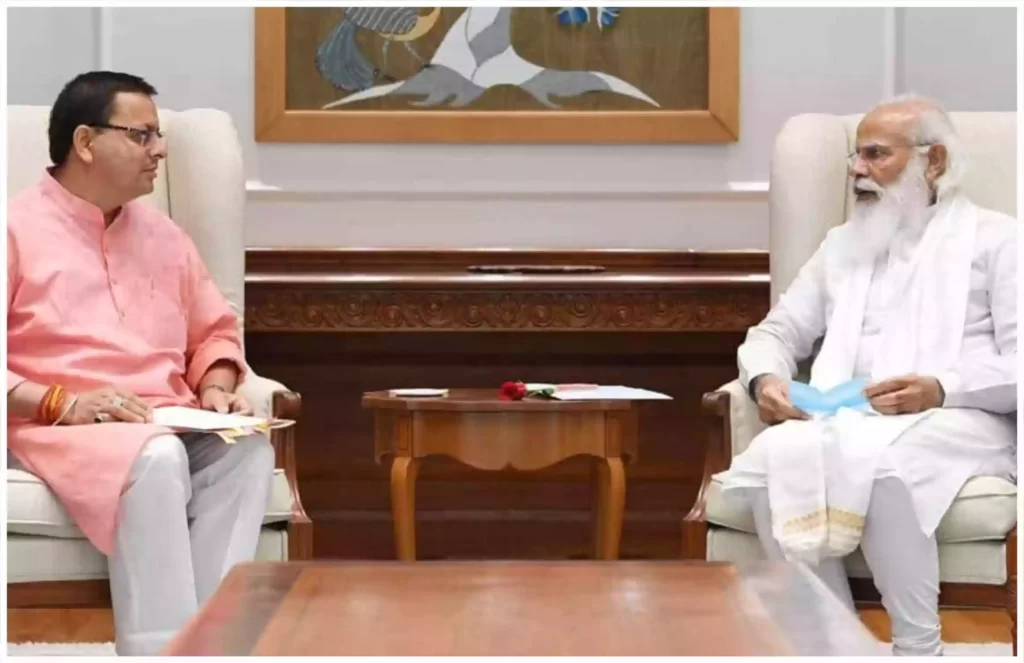 Political Journey
The politician who is interested in the welfare of all those around him outshined during his college days. Mr. Pushkar Singh Dhami started participating in youth politics for the first time in 1990. Till 1999, he worked with the Akhil Bharatiya Vidyarthi Parishad (ABVP), the student wing of the BJP's ideological mentor Rashtriya Swayamsevak Sangh (RSS).
The formation of a separate state Uttarakhand was itself a very complex journey. But finally, it was carved out. And from the formation year to 2002, he worked as an advisor to then chief minister. Being closely involved in the state's development processes, he truly understands the real issues of this hilly state. He firmly believes that Youth is the future of the nation.
The nation's development depends on the progress of our youth. As chief of the state unit of Bharatiya Janta Yuva Morcha, he put forward various topics for the welfare of the youth. Not only did he talk about the reforms that were needed but also organized several rallies and meetings across the state.
The credit of asserting the government to reserve 70% of opportunities for the local youth in industries, goes to this energetic leader. Along with infrastructure development, he prioritizes the employment of the state's youth. Under his leadership, the skilled youth will surely be not be deprived of employment opportunities.
New Beginging : As a State Head
Amidst the up and downs of the state's politics, he emerged as the most potential leader for Devbhoomi. On 3 July 2021, he was sworn in as the 11th Chief Minister of Uttarakhand. Aware of the paucity of time, as elections were not even a year far away, he still took up the challenge of leading this state. And, undoubtedly, he has fulfilled his challenge by working at tremendous speed. His prime objective is to provide every basic facility to every Uttarakhandi standing in the last corner of Uttarakhand and ensure that Devbhoomi Uttarakhand becomes the number 1 state in India based on all the parameters of development.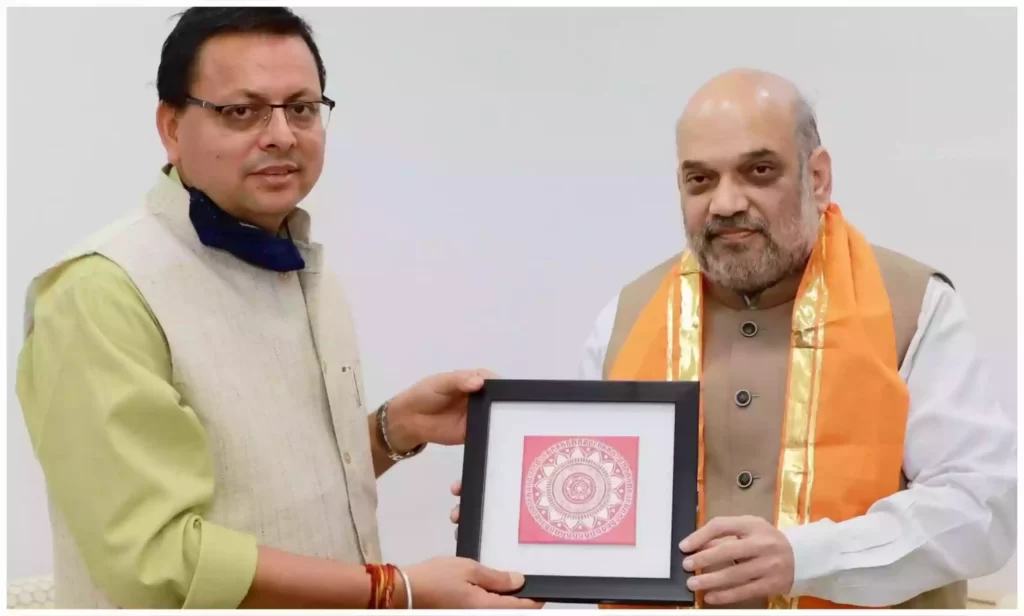 Benchmark created by Pushkar Singh Dhami
It takes a year for people to take even a single decision for the mass of people. But Shri Pushkar Singh Dhami has taken over 400 decisions for the welfare and development of the general public, till now. He has been working tirelessly day and night to ensure that there are no block roads in the development of the state and its citizens. Presently, he was working to remove traces of the anti-incumbency factor and ensure a forward-looking atmosphere in the hill state.
The state's unparalleled beauty is not hidden, which makes Uttarakhand take a spot in the list of most desired tourist places. Every year, numbers of tourists visit Devbhoomi to visit various shrines. One of the most prominent beings 'Kedarnath'. So, to ease the travel for devotees so that they get darshan quickly, a ropeway is being prepared from Sonprayag to Kedarnath which will cut out the longer time to just 25 minutes. Apart from ensuring a tourism-friendly state, he is also easing the policies for filmmakers so that filmmaking could become a pleasurable experience in his picturesque state.
He also says," Education is the basis of life and without education, the life of man becomes meaningless and directionless. Along with quality education to the students, basic facilities are being provided in the schools. There will be no shortage of budget to improve the education system". And in this regard, several steps have already been taken like: Toilets were rebuilt in 454 government schools, drinking water connections were made in more than a thousand government schools, 51 government school buildings were constructed, more than 46 thousand computers were made available in government schools.
Well aware of the consequences of this pandemic, he has come up with "Covid Relief Package, Relief to every class". Through this package, the government is working to provide financial assistance to cultural groups who are suffering financial loss due to the non-organization of state fairs and private sector programs due to Covid-19.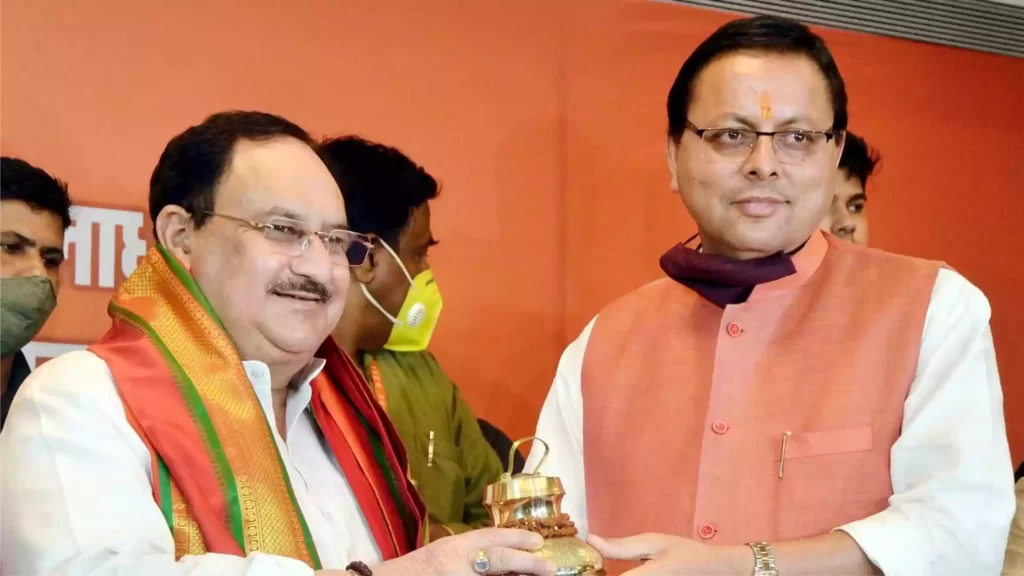 Furthermore, taking forward the Digital India mission of Prime Minister Shri Narendra Modi Ji, unprecedented work is being done in the field of education today. Under his leadership, the government is making continuous efforts to make the students of the state digitally capable. Also, the Construction of six state-of-the-art perfume and fragrance laboratories at Selakui for ₹40 crores is taking place.
A special mention of his sensitivity towards the citizen. The safety of mother power is significant to him.
Thus, Pushkar Singh Dhami came up with another initiative called 'Khushiyon Ki Sawaari Yojana', under which the government delivers the mother and child safely to their homes for free through vans after delivery. In case of emergency, pregnant women are also brought to the hospital through this van.
Over the years, Uttarakhand has given many talented players to the world. Recently, Lakshya Sen of Almora made a winning strike at the world championship. So, new sports policy and establishment of sports universities will give it more strength. To give wings to more aspiring players, Maharana Pratap University of Sports and Physical Education will be established in Uttarakhand which will surely bring a revolutionary change in the field of sports for the sportspersons and youth of the state.
These are just a handful of innumerable initiatives taken by our C.M. Shri Pushkar Singh Dhami, towards the welfare and development of Devbhoomi. The countless number of steps taken by him in a short period rightly showcases his potential. We are sure that the state will undergo a major positive transformation under the leadership of this visionary leader whose endeavour is that there should be balanced development of the state and Uttarakhand takes a top spot in every field
References
https://en.wikipedia.org/wiki/Pushkar_Singh_Dhami
2. Sen, Shampa (3 July 2021). "Know about Pushkar Singh Dhami who is all set to become Uttarakhand's 11th CM". DNA India.